About us
Pho Victoria Vietnamese Restaurant is open for lunch and dinner in the North Melbourne area. Serving up Asian and Vietnamese food, you can find everything from Sesame Prawns to Fried Quail on our diverse menu.
Dine with us for authentic flavours and traditional cooking methods. Our chef takes pride in every dish, and prepares each with fresh herbs and spices for an amazing dining experience. Get a Rice Noodle Soup with beef, chicken, or veggies. Choose seafood, vegetarian dishes, or go bold with a chef's special dish at Pho Victoria Vietnamese Restaurant where you will enjoy Vietnamese coleslaw and much more.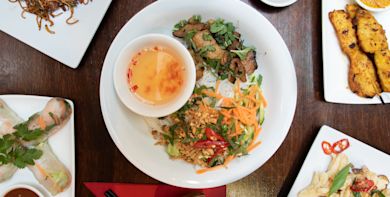 Reviews
Maria
"the best food! we always go back there, would recommend their beef pho, their combination fried rice (OMG SO GOOD!) and the dim sims"
6/01/2020
Barbara
"A.MAZ.ING! Thank you! Food was delicious, hot++ and generous!"
3/01/2020